16 May 2023
Entrepreneurship and innovation meet to connect large corporations and startups
València, 16 de mayo de 2023.- Fundación LAB Mediterráneo, a project promoted by the Valencian Association of Entrepreneurs (AVE), cwith the collaboration of Cardumen Capital, , today organized a meeting to connect large corporations and startups at the ZEUS facilities in La Marina de València, where experts in the field analyzed the challenges and opportunities presented by these synergies.
The event was welcomed by the President of Fundación LAB Mediterráneo, Alberto Gutiérrez, who highlighted the Foundation's mission to position the Valencian Community as a national and European benchmark in entrepreneurship, innovation, technology, and research.
After the opening, a dialogue on the opportunities of venture capital and corporate venturing for companies took place between Igor de la Sota, co-founder and partner of Cardumen Capital, who stressed that "the current situation of the Venture Capital market offers corporations the opportunity to position themselves strongly in the startup ecosystem. At Cardumen Capital we believe that it is a great time for corporations to invest in venture capital and collaborate with startups" and the corporate general manager of Familia Martínez and CEO of KM ZERO, Raúl Martín, highlighted the value of Corporate Venture to find "disruptive solutions and generate an ecosystem in which concrete solutions to industry challenges can be found". In addition, he added, "in the end, what we are talking about is adapting quickly and finding solutions quickly. In the end, going to an ecosystem like this will allow you to begin to understand what is going to happen in the world and adapt".
After the dialogue, Asier Alea, Director of Global Development at the Basque Culinary Center, Javier Megias, managing partner for EMEA VC Funds at Plug and Play y Darío Olivares, Project Director at Lanzadera–Marina de Empresas, took part in a round table discussion on cutting-edge entrepreneurship ecosystems, moderated by Sejal Ravji, partner of AgriFoodTech at Cardumen Capital.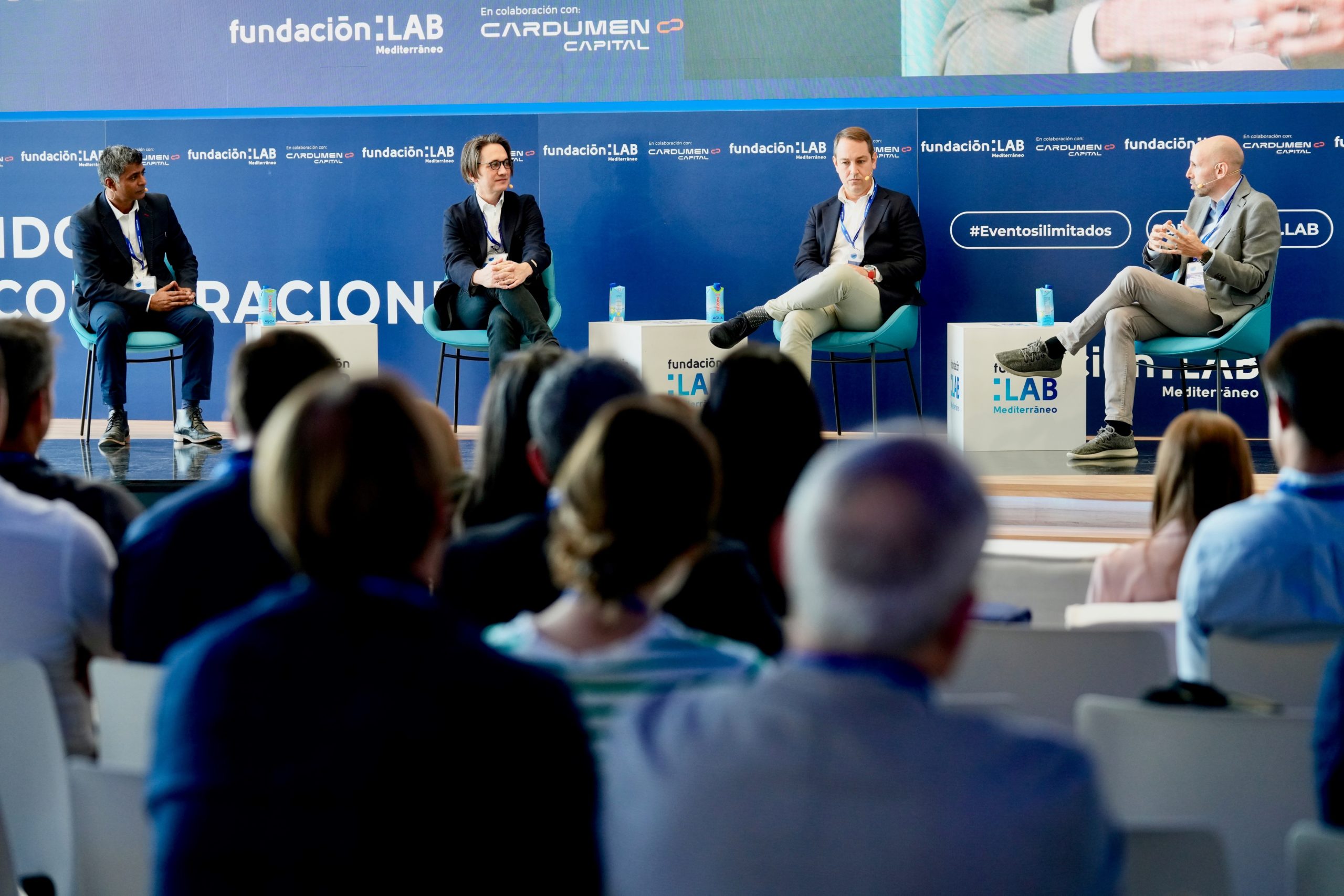 For Sejal Ravji "entrepreneurship ecosystems can be a driving force to build a more innovative, inclusive, and sustainable society".
Asier Alea shared that "we have a holistic vision of creating a system open to everyone. The purpose: to be a place where gastronomy is used as an engine for global change".
In the other hand, Javier Megias wanted to explain that "for a city to have a good innovative and technological ecosystem, it is vitally important that the traditional business fabric is aware and open to collaborating with startups and new companies with a high digital component. This is the best way for civil and financial society to move forward". He also highlighted the role played by Valencia, pointing out that "Valencia is doing its homework very well, but there is still a long way to go to achieve this total symbiosis between the more traditional business world and the world of technology".
Darío Olivares commented that "at Marina de Empresas we want to strengthen the entrepreneurial ecosystem and a good way to do this is to promote synergies between corporations and start-ups, which are key to providing innovative solutions to any sector".
In the second part of the session Leopoldo Reaño, Managing director at DeA Capital (Grupo De Agostini), shared his opinions and experiences at a round table on the role of investors and family offices, who stressed that "the companies in which we invest in the food and beverage sector are compulsive consumers of innovation and one way to have quick and efficient access to this is to collaborate/co-invest with start-ups or even acquire a majority". Santiago Royo, CEO at Invext Corporation (Familia Royo), told his experience stating that "in our case, what we did was to get together 4 or 5 entrepreneurs from the Valencian Community and set up a hub where any business that came to us could be referred to this fund and thus have a point of union to meet the requests, this allows us to be close to the ecosystem. What we provide are not only numbers but also connections" and, finally, the head of Organisation and Investment Analysis at Azahar Global Capital, Fernando Pérez, stressed that "entrepreneurial companies are the ones that will define the future. Family offices can make an effective contribution to channeling family savings towards the best of them".
The round table was moderated by Alejandro Escribá, director of the Chair of Family Business at the UV. For Escribá "the development of an entrepreneurial ecosystem in each territory is essential for the regeneration of economic and industrial models, and business models, not only of start-ups but also of consolidated companies. Family businesses are the most common type of business in all developed economies, and their connection with entrepreneurs is critical for innovations to reach the market, contribute to renewing their business models, and reinforce their already high contribution to the welfare of society. Conferences like this one are fundamental to building bridges between the key actors of the economic and social transformation of our country".
This was followed by a dialogue on open innovation: collaborations between companies and startups, moderated by Ángel Buigues, BStartup advisor at who highlighted the value of this type of initiative, stating that "it is a good opportunity to learn about the experience of companies that have found successful models in their open innovation processes".
Majo Castillo, CEO atZEUS and COO at Sesame, took part in the round table, pointing out that "it is of great importance for corporations to incorporate open innovation, as it is something that can be tackled internally. However, it is especially interesting that they do so with external startups to energize the sector and provide greater perspective and capacity to face new innovation, digitalization, and social challenges".
Araceli Císcar, executive director of Dacsa Group,shared what they have done within Dacsa Group: "We have created a division: investee companies. We currently have 11 investee companies in which we are actively supporting their growth from the different departments of the company. This is the contribution that we are making and that we must make in the world of entrepreneurship and beyond".
According to Héctor Dominguis, CEO at GDES, in the relationship with startups, "the key is to support them and let them be, as their great value is their different way of seeing things and their agility". He also added that "we want to attract ideas, not only to apply them to the company, but also to support them and thus contribute to the common good of sustainability".
During the talk, Gema Sánchez, financial manager at Perseo-Iberdrola also commented on Iberdrola's commitment, "we have been collaborating with the best entrepreneurs and startups for more than 15 years to face the challenges of climate change together".
The session concluded with a pitch session of startups, led by Paloma Mas, Events and Culture Manager at Plug and Play, in which Adrià Aguado,CEO and co-founder of Miivo Mobility, Álvaro Arrescurrenaga, CEO and co-founder of Voicit, Francho García, CEO and co-founder of Arkadia Space, Arman Kazanjian, CEO at Spikhub, Guillermo López, CEO and co-founder of Enerlind, Fran Villalba, CEO and co-founder of Internxt; Raúl Villalba, financial and business development director of Solatom, y Ana Karen Zapata, , Chief Operation Officer of ClimateTrade, who presented their respective projects and opportunities for collaboration with companies.
DDuring the talk, Paloma Mas stressed the importance of this type of event, pointing out that "what we have seen today is an example of the technological talent of the Valencian Community, whose future is more than promising. Thanks to them, society in ten years will be very different from the one we know today". .
Fundación LAB Mediterráneo
Fundación LAB Mediterráneo is a project created by AVE with the mission of positioning the Region of Valencia as a national and European benchmark in entrepreneurship, innovation, technology, and research.
To achieve this, it has set itself five objectives: to promote the creation and attraction of technology start-ups; to work to attract national and international technology companies to set up in the Valencia Region and create a 'tractor effect'; to promote support for companies in non-technological sectors to accelerate their digital transformation; to contribute to increasing private investment in R&D&I; and to help promote research.
The Foundation's Board of Trustees is made up of the following entities: Aceitunas Cazorla, Aquaservice/Plug and Play, AVE, Baleària, Banco Sabadell, Boluda Corporación Marítima, CaixaBank, Dacsa Group, Embutidos Martínez/KMZERO, GDES, Grupo AZA, Grupo Bertolín, Grupo Gimeno, Helados Estiu, Importaco, Lanzadera, Logifruit, Nunsys/inConcert, Royo/ Invext, S2 Grupo, SPB/Cleanity TIBA/Romeu, Verne Technology Group y Zeus/Sesame.